Speed Skating
Great Atlantic Speedskating Club
Great Atlantic Speedskating Club (GASC) is Maine's only short track speedskating club. GASC was established in 2002 by a few enthusiastic people who wanted to learn to speed skate after watching the 2002 Winter Olympics. The Club is a Direct Club under US Speedskating Association. We are a tax-exempt organization recognized under IRS Section 501(c)(3).
GASC is an all ages/all abilities club committed to training recreational skaters as well as those wishing to compete. Our adult and youth skaters compete in local meets in New England and Canada as well as nationally. The club has 30 members ranging in age from 8 to 70. The club is coached by a US Speedskating certified Level 3 Coach, Karen Schilling, and Level 1 Coach, Shelley Littlefield.
The club has been skating at Family Ice Center in Falmouth, Maine, since 2003. The season runs from September to April. Each year we have at least one event to introduce speedskating to the public. The Club's popular "Try Speedskating" event takes place on October 14th from 10 AM to Noon.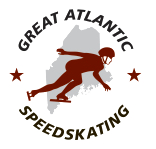 Great Atlantic Speedskating Club (GASC)